Clear Aligners In Homewood, AL
Dr. Chelsea Maniscalco and her friendly staff provide only the best clear aligners to create your most confident smile. Conventional braces can be uncomfortable for some, but people of all ages can enjoy the benefits of clear aligners, especially because the process is invisible to others! Discover the casual comfort of straighter teeth with the convenience of clear aligners.
Clear aligners, often referred to as invisible aligners, are a type of treatment that corrects misaligned or crooked teeth to help create a perfect smile. Clear aligners gradually adjust the position of your teeth over time, just like traditional metal braces, while being practically invisible on your teeth. Plus, you don't have to spend time going to tightening appointments.
Some of the perks of clear aligners include their low profile, the ability to remove them, and the fact that they're almost completely invisible. You can wear them all day without anyone noticing! You'll also be able to enjoy all your favorite foods because there are no dietary restrictions. You can start seamlessly aligning your teeth by calling Central Avenue Dentistry for a consultation today.
How Do Clear Aligners Work?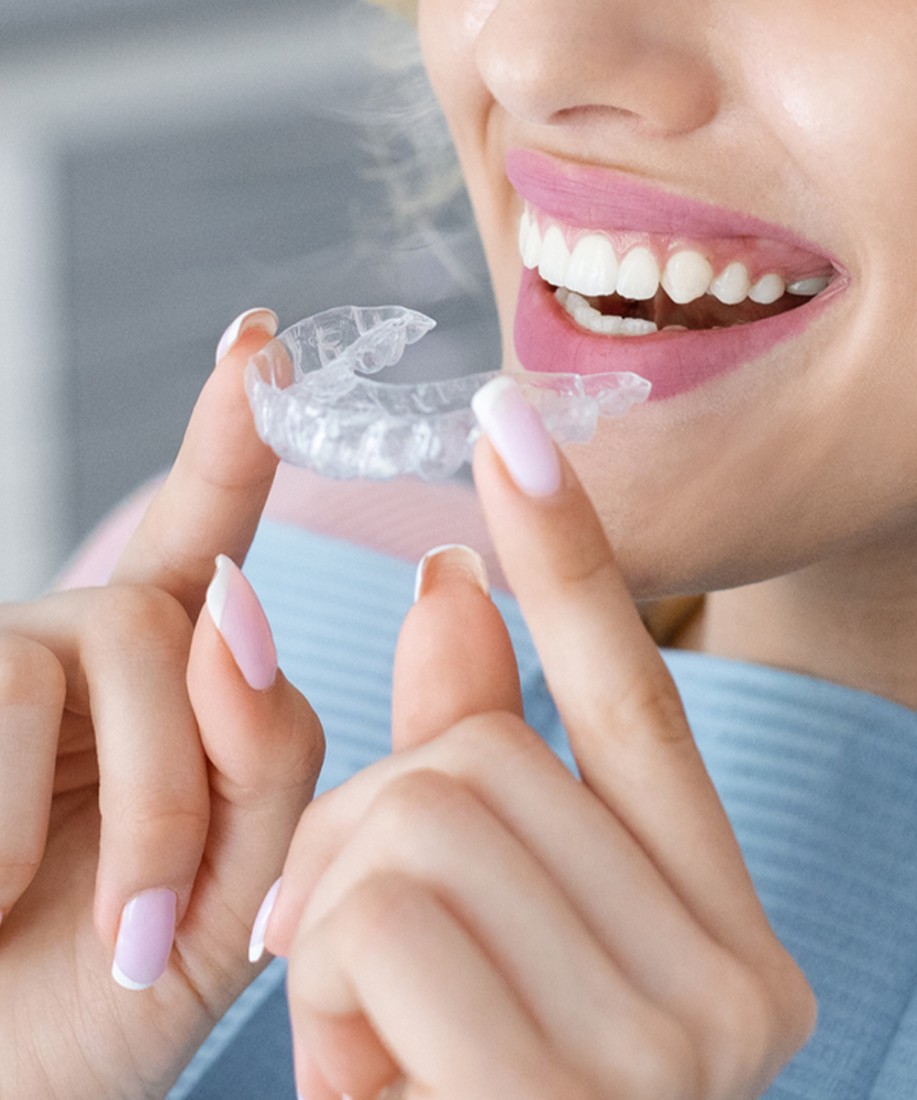 Clear aligners function similarly to traditional braces by gradually guiding teeth into a straight position over time. Your dentist will take impressions of your teeth to calculate their ideal positioning for a perfect smile for clear aligners. After that, a customized treatment plan will be discussed with you – all you have to do is follow the plan and remove the aligners as necessary to brush, eat, or drink. You'll see your more beautiful smile in no time!
The gentle pressure and low profile of clear aligners make them a much more convenient alternative to braces for many people. You'll hardly notice the feeling of your teeth being shifted, and you won't have to worry about broken brackets or wires interrupting your daily life. Call Central Avenue Dentistry today to schedule your appointment and discover the latest treatments for a straighter smile!
Other Services You May Be Interested In
FAQs
Are Clear Aligners Good For Your Teeth?
Yes, clear aligners are an excellent option for straightening teeth, which can optimize dental health!
Do Clear Aligners Hurt?
Clear aligners are a more gentle way to align your teeth over a period of time. The aligners apply low pressure only, meaning most patients experience minimal discomfort.
Will Clear Aligners Affect My Ability To Speak?
Clear aligners should not affect your ability to speak. However, when first receiving your clear aligners, it may take a few days to adjust to talking around them.